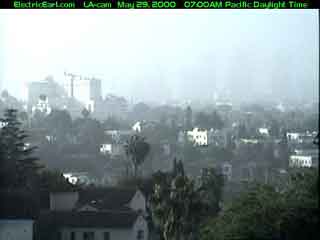 Introduction
There are a lot of webcams on the internet but it's really hard to find some good cams. I have surfed the internet for a long time now and I desided to share the best indoor, outdoor and home webcams with you!
On the left a cam with a marvelous view of Los Angeles in the morning. Really foggy, isn't it?
The Webcams
Webcams are not as fast as beginners expect them, usually the refresh time is 15 or 30 seconds (the time to wait for a new image), sometimes with a nice countdown. The fastest cam I have seen had a refresh rate within a second, cams that are controllable by the user have often a really good refresh rate (see the sydney cam below).

The most cams are outdoor webcams, they mostley have a pretty view of the surrounding, sometimes they have a special location like from a cafe on the beach, in a taxi, in front of an eagles nest or a view of a volcano! But mostley indoor cams are the most addictive because you can have a look in the lifes of others.

One of my favourites is the strand cam of Hermosa beach California under the outdoor cams section. There is always something going on there. They have a huge archive of pictures from the last 6 months! Below is a snapshot of it:
Below is a snapshot of guy that just woke up and already sits in front of his computer, sad isn't it? (No, really! Well.. maybe not, no, nope .)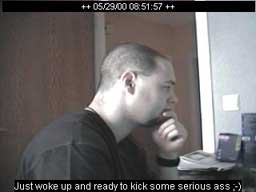 Below is a view of Sydney. You can control the live camera yourself for a short period. You can rotate and even zoom!